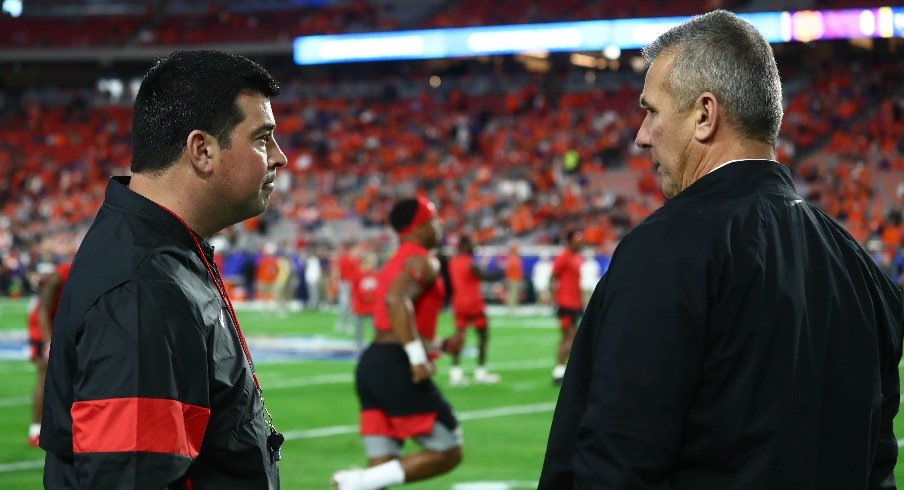 Numbers Highlighting Ohio State's Big Ten Dominance Over the 10 Seasons
It's been said quite often over the 10 years or so that we are living in the golden age of Ohio State football. 
The numbers certainly back up that claim, particularly within the Big Ten conference where the Buckeyes have straight up owned just about every meaningful statistic and accomplishment. 
This fall, the Buckeyes enter the season as prohibitive favorites to capture another Big Ten title, and by extension, another berth in the College Football Playoff. 
Such success is now the norm but fans should be careful taking the great players, teams and seasons for granted. With that, here's a handful of remarkable data points punctuating Ohio State's ownership of the Big Ten over the last 10 seasons. 
EIGHT B1G QUARTERBACK OF THE YEAR AWARDS 

I'll start off with this one since this tweet is what got me to thinking about some of the accomplishments that get to the heart of how Ohio State has owned the league. 
B1G QBOY, by year:

11, R. Wilson
12, Braxton
13, Braxton
14, J.T.
15, C. Cook
16, J.T.
17, J.T.
18, Haskins
19, Fields
20, Fields

Here's a memorable TD pass from @BraxtonMiller5, @JT_theQB4th, @dh_simba7 & @justnfields on #TouchdownTuesday. pic.twitter.com/LlSRMPj2Hk

— Ohio State on BTN (@OhioStateOnBTN) June 15, 2021
Lol it feels like this shouldn't even be possible. Under Urban Meyer and Ryan Day, the Buckeyes have produced eight B1G QBOY winners in nine tries?! 
Wisconsin's Russell Wilson earned a conference QBOY of his own back in 2011 before Braxton Miller won back-to-back honors and J.T. Barrett peeled off three in four years. Then Dwayne Haskins stepped in as a first-year starter and earned the award plus a trip to New York before Fields went back-to-back along with his own Heisman finalist season. 
Hilariously, Michigan State's Connor Cook won it 2015 mostly because Meyer had no idea how to handle the Barrett / Cardale Jones situation. Cook finished No. 81 nationally in completion percentage (56%), No. 49 in passer rating and No. 43 in yards per attempt that season. Cardale was no worse than 36th in all three of those metrics in spot duty. That's not to suggest Cardale should've won it but lol that Cook did. 
So yeah, props to Wilson considering Braxton never had a chance in the 2011 offense under the guidance of The Walrus but the 2015 award going to Cook was a gift from Ohio State. 
Bottom line, batting .800 as a program snagging Griese-Brees awards over the last 10 years seems good. 
SEVEN SILVER FOOTBALL AWARDS 

The Chicago Tribune's Big Ten MVP award, the Silver Football is legit. 
Since 2011, Ohio State claimed seven Silver Footballs, highlighted by Braxton's double-dip in 2012 and 2013. 
Ohio State took a year off from the award in 2014 despite winning the national title before Ezekiel Elliott captured it in 2015 and Barrett in 2016. 
Props to Saquon Barkley for taking home the 2017 Silver Football while finishing No. 2 nationally in all purpose yards per game (179.2) before Ohio State went on a run of three straight. 
Haskins coasted to victory in 2018, Chase Young turned the trick as a defender in 2019 and Fields was the no-doubt winner in 2020. 
Besides Barkley, Montee Ball and Melvin Gordon were the other two non-Buckeyes to win the award during the 10 year span. 
73 NFL DRAFT PICKS 

The last 10 NFL Drafts (2012-2021) saw Ohio State post 73 NFL selections, good for 23 more than the second-place Michigan. Penn State clocked in at No. 3 (42 picks) followed by Wisconsin (38) and Iowa (34 – all of which were probably tight ends). 
Ten Buckeyes were selected in the 2021 draft, tying Alabama for the most, and marking the seventh time Ohio State had at least 10 players selected. 
Ohio State went back-to-back in 2020 and 2021 with 10 players picked, becoming the first school since the Crimson Tide racked up a three-peat from 2017-19. 
With the Big Ten posting 44 selections in 2021, Ohio State accounted for nearly a quarter of those picks. 
SIX B1G DEFENSIVE LINEMAN OF THE YEAR AWARDS

Since Meyer's arrival in 2012, Ohio State boasts six Smith-Brown Defensive Lineman of the Year awards with five of those coming since guru Larry Johnson left Penn State to join the Buckeyes staff. 
John Simon captured the award in 2012 and then Ohio State took a year off before Johnson helped Joey Bosa go back-to-back in 2014-15, Tyquan Lewis snagged the 2016 honor and Nick Bosa take home the 2017 trophy. 
The four-year stint of pure dominance rocketed Johnson into his own stratosphere as the premier edge rush coach in all of college football. 
In 2019, Johnson's latest star pupil, Chase Young, joined Simon and Joey Bosa in 2014 as Buckeyes to not only win the B1G Defensive Lineman of the Year but also the league's Defensive Player of the Year award. 
38-3 RECORD AT HOME

A winning percentage of .927 at home versus B1G opponents since 2011 seems pretty good. 
It would be even better if not for the 2011 dumpster fire transition year to Meyer's arrival in 2012. With Luke Fickell trying to keep the ship afloat, Ohio State went just 2-2 in the Shoe versus Big Ten opponents. 
Said differently, if you back out 2011 from your memory bank, Ohio State went 36-1 at home against Big Ten squads over the next nine seasons, good for a winning percentage of .973. Lol. 
Excluding 2011, Michigan State's 17-14 upset win in 2015 stands as the lone blemish on Ohio State's home conference record since Meyer showed up and then handed the keys to Day. 
FOUR WINNING STREAKS OF AT LEAST 10 GAMES

Over the decade, if you include all games – not just B1G tilts – Ohio State posted winning streaks of 24 games (2014-15) and 23 games (2014-15). 
But sticking with the theme of B1G dominance, the Buckeyes tallied four win streaks of at least 10 games. 
The first began during Meyer's initial season and stretched into 2013 with a 16-game streak before Michigan State's upset win in the B1G championship. 
2014 saw a new streak begin and run for 15 games before Sparty again shut shit down toward the end of the 2015 regular season. 
Following a 2016 loss at Penn State thanks to abominable special teams, Meyer's program posted 10 straight league victories before the 2017 nightmare in Iowa City. 
Finally, after a horrifying 49-20 loss at Purdue in 2018, the Buckeyes embarked on a 21-game conference winning streak that's still active. 
8-1 RECORD VERSUS MICHIGAN

Michigan's narrow 40-34 win over Ohio State in the Big House way back in 2011 was the lone blemish on the Buckeyes' run over Michigan during the last 10 seasons. Well, that and the Wolverines basically opting out of a 2020 beatdown due to Covid-19. 
No matter, Ohio State continued its run toward taking the all-time series lead in The Game which could happen as early as 2028 after winning 17 of the last 19 matchups. 
During the period, Ohio State outscored Michigan 365-256, posting over 40 points in five of the nine contests. 
I'm sure there are at least a couple dozen more notable metrics highlighting Ohio State's conference dominance but these are a few of my favorites.