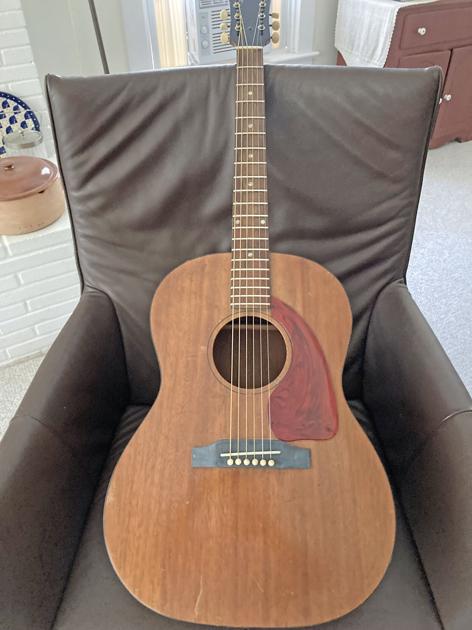 Postscripts: Like a rolling stone, writer rocks and rolls down his musical memory lane | Guest Columns
At an outdoor gain examining for a library in Mystic a couple weeks back, Dan Curland, venerable proprietor of the vinyl report emporium Mystic Disc on Peacock Alley in downtown Mystic, was one of 18 men and women featuring quick readings of whichever they wished. Curland chose the lyrics from Bob Dylan's "Desolation Row" off Dylan's "Highway 61 Revisited" album launched in 1965.
As Curland enable on, he had a effectively-applied warehouse with 60 many years of Dylan content from which to opt for.
Contemplating about what Curland did led me to this gambit, deep in these lazy, hazy times of not just summertime but, nevertheless, a tender '60s-'70s time lure.
I have decided for this piece to list a bunch of performers — solo and group — and decide on the just one music by each and every I uncover either emblematic or like the greatest — at the instant. As a Pandora shuffle exposes, faves are fickle.
Of system, for most of these performers picking out a single tune is virtual folly, and I know I'm inviting ridicule if not perplexity and dismissal as another person caught in a long-long gone era or somebody who doesn't have a clue about audio or, in simple fact, a person having not significantly to create about this 7 days.
In what follows, there will be omissions, addresses, are living performances, obscure voices. My listing is white middle course, just like, after all, me. There's very little state or blues or disco, and no weighty metallic, punk and how that excluded record of dreck does go on. There is no rap, however, for me (see white center class), Dylan's "Subterranean Homesick Blues" (1965) was rap just before there was rap, and Dylan's was an adaptation of Woody Guthrie's Depression-period speaking blues and possibly scat tunes from the 1940s but, again, to me, it was acerbic and damn wise relatively than vulgar and vain.
No, this is tunes from a time when music — and oh, does this ever seem pompous and vain, was discernible, and even, dare I say it, melodic, normally thoughtful, from time to time truly poetic and, receiving down to it, obtainable. At least to my getting old cohort.
Nonetheless and all, the defeat goes on, and helter skelter as this list is, in this article we go:
Bob Dylan: "Like a Rolling Stone."
Rolling Stones: "Tumbling Dice."
Beatles: "Hey Jude."
Procol Harum: "Whiter Shade of Pale."
The Manhattans: "Shining Star."
Crosby, Stills & Nash: "Wasted on the Way."
Marvin Gaye: "What's Heading On."
Sam Cooke: "A Modify is Gonna Arrive."
Iris Dement: "Let the Mystery Be."
John Prine (for whom, like a couple of other individuals listed here, I would fortunately dedicate this whole place): "Hello in There."
Doobie Brothers: "What a Fool Believes."
Diana Ross & The Supremes: "Someday We'll Be Jointly."
Grateful Useless: "Ripple."
The Band: "Ophelia."
Asleep at the Wheel: "I've Been All over the place."
Place Joe and The Fish: "Vietnam Music."
Jimi Hendrix: "Hey Joe."
Jefferson Airplane: "White Rabbit."
Steve Winwood: "Back in the High Life Once more."
Joan Baez: "Joe Hill."
Joe Cocker: "Bye, Bye Blackbird."
Pointer Sisters: "Slow Hand."
Arlo Guthrie: "Deportee (Plane Crash at Los Gatos)."
Bob Marley: "No Female, No Cry."
Dave Mason: "Feelin' Alright."
Eric Clapton (with Blind Faith): "Can't Come across My Way Household."
The Who: "Pinball Wizard."
The Kinks: "Lola."
Allman Brothers: "Ramblin' Male."
Sinead O'Connor & The Chieftains: "The Foggy Dew."
The Dubliners: "McAlpine's Fusilliers."
ABBA: "Dancing Queen."
Seashore Boys: "California Ladies."
David Gray: "Say Hi, Wave Goodbye."
Martha Reeves: "Dancing in the Street."
Otis Redding: "Try a Minor Tenderness."
4 Tops: "Same Old Song."
Delaney & Bonnie: "Get Ourselves Alongside one another."
Chuck Berry: "You Never ever Can Notify."
Buffalo Springfield: "Learning to Fly."
Bob Seger: "Against the Wind."
Dave Van Ronk: "Cocaine Blues."
Blaze Foley: "Clay Pigeons."
Creedence Clearwater Revival: "Bad Moon Rising."
Tedeschi Vans Band: "Midnight in Harlem."
Tom Waits: "Jersey Female."
Bruce Springsteen: "Dancing in the Darkish."
Neil Youthful: "Everybody Appreciates This is Nowhere."
Van Morrison: "Someone Like You."
James Taylor: "Carolina in My Intellect."
Carole King: "A Purely natural Woman."
Rhiannon Giddens: "Shake Sugaree."
Paul Simon: "Still Crazy Soon after All These Decades."
Velvet Underground: "Waiting For My Male."
Bonnie Raitt: "Not the Only A person."
Taj Mahal: "Six Times on the Highway."
Judy Collins: "Bread and Roses."
Joni Mitchell: "River."
Leonard Cohen: "Sisters of Mercy."
Jackson Browne: "Running on Empty."
The Eagles: "Take it Simple."
Linda Ronstadt: "Just A person Glimpse."
Orleans: "You're However the One."
Steely Dan: "Dr. Wu."
Tina Turner: "What's Love Received To Do With It."
The Byrds: "You Ain't Goin' Nowhere."
Lovin' Spoonful: "Do You Think In Magic."
Mississippi John Hurt (whose "Coffee Blues" was the inspiration, John Sebastian always stated, for the name Lovin' Spoonful, which, said Sebastian, was a reference to oral intercourse): "Louis Collins."
Tim Hardin: "Reason to Think."
Rod Stewart: "Country Convenience."
Elton John: "Mona Lisas & Mad Hatters."
Compact Faces: "Maybe I'm Astonished."
The Mamas and the Papas: "Monday Monday."
Mary McCaslin: "Old Good friends."
Bill Staines: "The Roseville Truthful."
David Mallett: "Ballad of St. Anne's Reel."
Geoff Muldaur: "Done a Good deal of Erroneous Factors (From Paul Butterfield's album "Better Days")."
No way did I own any of these, but as lengthy as we're shelling out our respects to what once was, I will say, yes, I did know some chords and performed a few of these.
Steven Slosberg life in Stonington and was a longtime reporter and columnist. He may well be arrived at at maayan72@aol.com.